Explore Our Great Outdoors!
Updated: Sep 21
Updated: 9/21/2020
The Packing District is open for takeout and outdoor dining! Let's explore as we take you on a virtual tour... Also, check out our blog for indoor dining.
Visit our culinary artisans and beverage purveyors to pick up your favorite eats and thirst quenchers. Then find a table at one of the many outdoor areas at the Packing House, MAKE Building or the beautiful Farmers Park. Tables and seating have been added for your convenience. Please note that face coverings are required at all times unless actively eating or drinking.
Now you can enjoy beer and wine from Packing House establishments in the backyard. Please be sure to order food per California's recent order.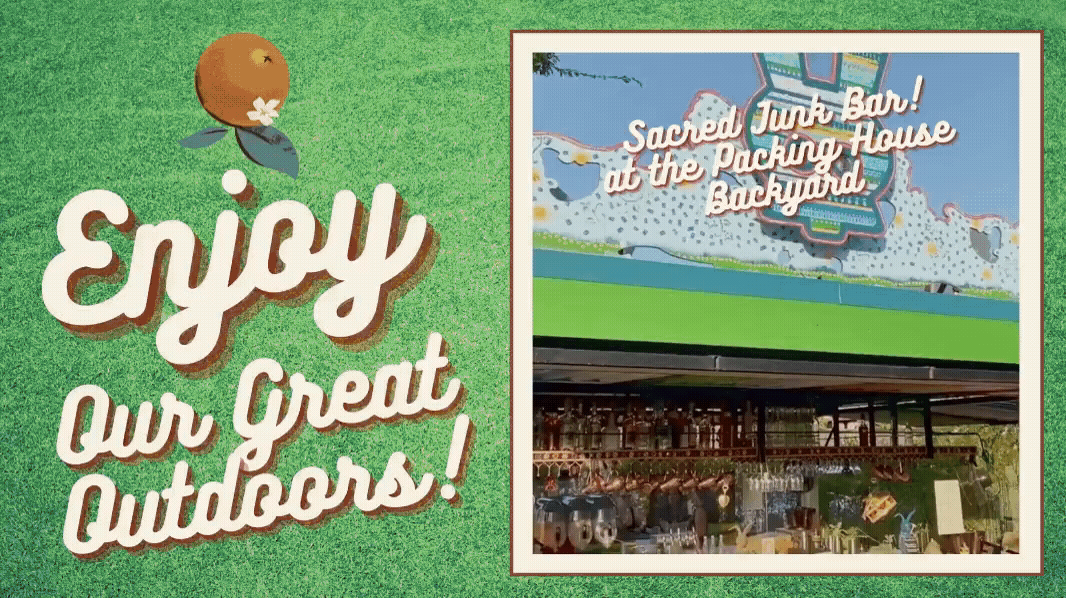 Discover Sacred Junk Bar, right behind Healthy Junk's wood fired pizzeria!
A former marmalade factory, the MAKE Building is home to Unsung Brewing Company, Pali Wine Company and Jav's BBQ. Enjoy the beautiful outdoor patio space while sipping and savoring!
Grab your Packing District eats, and head over to dine out in Farmers Park, open daily from 11am-10pm.
Farmers Park guests of legal drinking age must purchase a Bona fide meal in conjunction with alcoholic beverages from an authorized Packing District establishment. Alcohol will be sold in a sealed container, not to be opened/consumed until within the park's enclosure.
Guests of all ages are still welcome to dine in the park!
Sit beneath the lantern light, day or night, at 18 Folds Cafe at Farmers Park. Enjoy handmade dim sum, and choose from 18 local beers on tap, as well as wine and sake!
Also at Farmers Park is the return of the blue collar cocktails from Hammer Bar. Sip upon your favorite mixed drinks served over cool cubes within the beautiful greenhouse garden. Food must be purchased to enjoy. Check out our blog post and video: MADE IN ANAHEIM: Hammer Bar Porch Party.
Anaheim Brewery announced the reopening of their beer garden for the return of Taco Tuesday and Fiesta Friday in partnership with K&A Cafe (Tuesdays/Fridays 6-9PM)!
Each guest will be required to purchase tacos (2 for $4.50 or 3 for $6).
Plus through September 20th, enjoy Aloha Lunch (12-3pm) with Hawaiian fusion favorites from Roy's of Anaheim with your favorite beers at the Anaheim Brewery Beer Garden.
As the brewery's number one goal is to provide a safe environment, they ask guests to wait to be seated (6 max per table) and not to enter the tasting room unless using the restroom. A server will be right with you to take your order. Outside beverages are not permitted. Due to limited seating, they ask that once your meal is complete, please exit the garden in order to make room for others. 
Just a short FRAN ride or walk, and you'll find the businesses at Center Street Anaheim open for takeout and outdoor dining. Enjoy parklets and sidewalk cafes while enjoying Japanese baked goods, Lebanese cuisine, chimney cakes filled with Dole Whip, vegan comfort food, all American fare, Abuelita's home cooking and dancing through the decades. There's even a comic book shop, curated thrift boutique and a barber that serves beer. Please check with businesses for current hours and operations.
Eager Orange County craft beer enthusiasts are elated as Modern Times, the San Diego famed brewery, plunges into the heart of Anaheim. Modern Times, CFO, Chris Sarette, proudly describes the latest 33,000-square-foot Modern Times luxury island paradise, which opened on July 28, 2020. "After four years of construction and restoration, we're thrilled to open Leisuretown to the public. Leisuretown is Modern Times' eighth and certainly most unique retail project -- home to a full-scale production brewery, kitchen, breathtaking beer garden, to-go mini mart, Craftsman event space, and a swanky swimming pool." He teases, "Yes, you read that right! We look forward to welcoming crowds in the future… when they're appropriate again." For now, due to distancing requirements, small numbers are welcome to enjoy the backyard resort.
For your safety, please follow the local, state and federal guidelines surrounding CV19.
We thank you for you support of small businesses, and we hope to see you soon!
For updates, please subscribe to our newsletter at the bottom of the page, and follow @packingdistrict on Instagram for daily updates.